Wednesday, September 11: Share links to your favorite online shops, preferably with a few photos of your favorite items in each shop.
Oh geez, this is bad, because this post makes me want to shop. Fortunately, I do not need any clothes right now. I have tons of dresses for summer and fall! However, since I'm inclined to share my favorite online shops. For dressing up and work attire, I shop on anthropologie.com, and jcrew.com! Patagonia, theclymb.com, and Prana are my favorite online stores for casual, yoga and outdoor gear too!
Anthropologie is my top favorite online store and I try not to shop on this site, too often. I am considering getting a new dress from my sister in law's wedding, like the Jardim Lace Dress. 
 [I'm sure Mr. F will say this is too busy, or too distinctive and I'd like the price to be lower!]
How cute is this Horsing Around sweatshirt on J.Crew? Or this seahorse tee?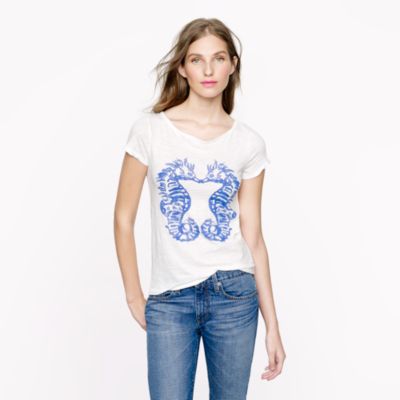 I guess you all know what I want for Christmas! Sadly, all of J. Crew's dresses look like empire waist types, which is not flattering on my short stature, so I will not be shopping for my next dress for a wedding or work function there….
Maybe I should finally use, Rent the Runway! I've been tempted to use this site to rent a dress but the prices are usually $50-$150 or more! This is a cute party dress…
and I think this could be a possible black tie work event dress….
I love wearing dresses, especially from Patagonia (the Rio's Secret is a new style that I'm curious about)
or Horny Toad. I have the short-sleeve version of the Oolong dress from Horny Toad and I love it! 
By the way, the Clymb has Lole yoga gear and dresses on sale right now! 
I would love this Riley Woven shirt from Prana this fall! 
I also exclusively shop online now, because I hate waiting in line. Mr. F and I even get all our drugstore products on Amazon.com. Do you have any favorite online shops?